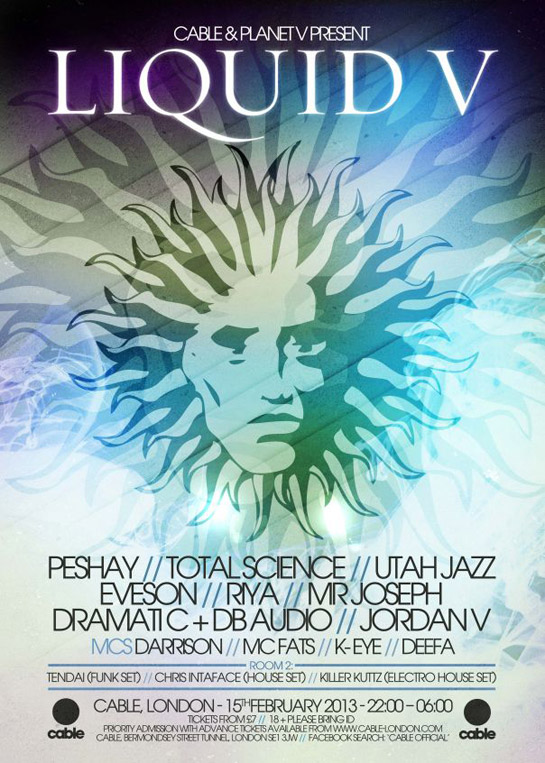 info: www.cable-london.com, soundcloud.com/cablelondon
Planet V returned to Cable on 15th February, this time with the next installment of Liquid V. And Cable witnessed a return of a legend as the mighty Peshay took to the stage. A true pioneer of the scene and a man at the heart of the beginnings of Liquid Drum and Bass, we were lucky enough to see the man in action as he put on a masterclass in rolling basslines and melodious vocals. He was joined by the mighty Total Science, a duo who first started to make real waves in the scene in the mid to late nineties and over the last decade have showed their ability to constantly produce quality Drum and Bass right the way across the board. Alongside them we had Utah Jazz, Eveson, Mr Joseph & more in firm support, with a very special live PA from Drum and Bass' most recognisable vocalist, the lovely Riya.

Check out these exclusive recordings from the night from V head honcho Jordan V, as well as Eveson and Total Science…some absolute classics in these!
Back from Holidays these recordings popped up in my soundcloud stream and i have been rinsing them ever since. Every DJ seemed to have brought their A-Game with MCs Darrison, Deefa, Fats and K-Eye. The kind of party-vibes i miss over here in Germany. Too bad the Peshay Set did not make it to soundcloud.