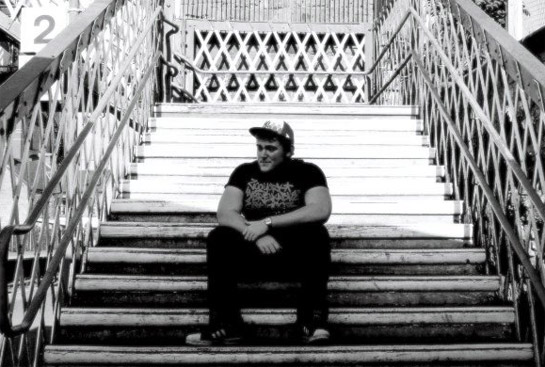 info: soundcloud.com/pennygiles
Pennygiles from Wales, UK is a young geezer that has impressed me with some dope beats and sampling so i decided to ask him for a mix and interview. Read more for the interview and grab the mix ranging wide from jazzy, deep and techy to a couple of classics. Enjoy!

Hello Stuart, how are you doing?
Hey! Yeah im good thanks man, Just recovering from a cold so starting to feel more human.
Please tell us about your musical background. How did you get into drum and bass?
Sure man, Musical background wise It wasn't around me growing up apart from the occasional Phil Collins tape in mum's car or Stevie Nicks. It was only until i started spending more time with my cousin's Ben and James who were both really into the Techno/Electronica scene (Model 500, Drexiya, Octave one etc.) And also a lot of trip hop (Coldcut, Shadow, Roots Manuva etc) So i suppose that's where my background come's from. Heavy sampled music mixed with Analog synths and drums. Oh yeah i was also strangely big into buying Boogie and funk records with strange and obscure record sleeves. (Still do to this day!) But my First memory of Drum and bass was a track by Oblivion (Source Direct) Called Lush. I Had no clue what it was but i was pretty confused and very interested at the same time. Then skip to my first year in high school i Meet up with a student who'd moved up from Kent with a bagful of Nicky blackmarket and grooverider mixtures…..The rest is history as they say.
Your sound has impressed me by crips beats and samples, please tell us a little how you work in the studio.
Thank you man, Really appreciate you enjoy it. Too be fair my production usually happens outside the studio. Say 80% of the time sitting down listening to other stuff, Sample's from Old tracks to movie score's, I've even been cheeky enough to Sample a jazz Pianist live in manchester…..'Hope he doesn't read this ;)' And when i've got the initial idea i want for a track i take it into the studio to add the remaining touch's
Please tell us something about your trademark sound and influences?
Hmmm Tricky one, I suppose it has a lot to do with making music with sounds that can be a bit foreign to me. Im obsessed with jazz music lately Which i never really used too. So i'd say its a mixture of my past influence's and new territory mixed together. Oh yeah….And im a sucker for an 808 baseline ;)
What is the favourite Track you made?
I always enjoy when i make something different to drum and bass. I've had an alia's for a while called 'Pepe the king prawn' Which i make a lot of techno/House/General rubbish Which i like to do. But as for dnb i'd say Au Revoir blackbird? I really really enjoyed making it, It seemed too flow nicely and didn't feel like i had too finish it which i tend to do with a lot of pieces.
Who would you like to work with if you could pick any person dead or alive?
Ooooooh good question!! Alive i'd say the lead singer from Queens of the stone age, Just because of his unique voice. Oh and azari and III, There getting a lot of play on my itunes lately. I think there vocals would be a magic touch on drum and bass. I cant forget calibre too but who wouldn't want to work with him?!?!. Dead i think Gil Scott would've been pretty amazing too just sit down and listen to his storys and philosophy. Perhaps Marvin gaye or Nina simone aswell.
Any statement on the state of Drum and Bass and Sample-Heavy/Liquid/Soulful Drum and Bass in particular?
Seems pretty healthy at the moment! A lot of great producers, really nice people to talk too unlike other genre's. It's like a lot of genres though i suppose. Things go in circles, One time it can be the most talked about thing then it go's into the corner and something else takes place. But luckily most people on this style stick to what there passionate about and it shows in there music. p.s. Fuck politics!
What releases are about to drop that we should look out for?
Release wise, I've got my track 'She takes everything' Comming out on stepping forward with a colab with Jaybee on there. Au Revoir Blackbird is set to be released on Good Looking start of next year. Also I've got a Colab with Phat Playaz for his 'Colab's' Album on Fokuz which im really looking forward too! Plus a few other bits with people after new year. A lot of hush hush but i usually spill beans :)
Anthing else?
Would just like to thank you guy's at Breaksblog for taking the time out too interview me! Seriously thankful. Also would like too Big up everyone who's been supporting me recently its been such a shock from going from nothing too people like Random movement, LTJ Bukem, Makoto, Dramatic & Dbaudio etc etc playing my stuff!. So just wanna give massive shoutout's to Mike Richards, Jaybee, Jason Magin, All the american Crew! Nitri, Level 2, l-side all the brazilian crew, Velocity, Heavy1, makoto. The UK crew Phil tangent,Dynamic,Mike Bolton,Sensa,Graham,Soultec, Sevin, Adam XTC, Impact. Also the cardiff crew you bunch of stoners! Keep at it players!….And everyone else supporting my music….. One love! and give me a shout! love hearing from people x
Tracklist:
01. Dave Owen – Still Down
02. Madman & Poets – Leave It
03. Marcus Intalex & ST Files – Universe
04. Sevin – No Wonder
05. Pennygiles – Leyla's Last String
06. Anile & Hybrid Minds – Old Times (Feat. Grimm)
07. Pennygiles – Au Revoir Blackbird!
08. L-Side – Gimme Your Money
09. Dub Phizix – The Editor (Feat. Strategy)
10. Tokyo Prose – Missing Out, Missing In
11. ASC – Brainscan
12. Pennygiles – Lack Of Signal
13. Bungle – Don't Look Back
14. Wax Doctor – Cool Breeze
15. Doc Scott – Tokyo Dawn
16. JMJ – Free La Funk (PFM Remix)
17. Goldie – Inner City Life