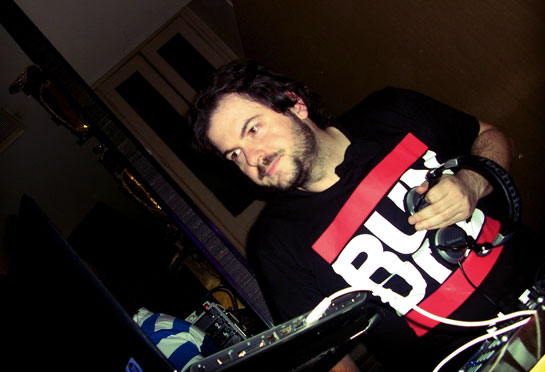 info: myspace.com/msdosdj
His Debut Album "Soul Searchers: Blue Sky High" is now out on Beatport so we thought it is time to get this busy man from Greece to share some insight on himself, his music and perception. Check his smooth beats in the mix and read on for a refreshing interview and all the updates.

Interview:
You have released on a wide selection of Labels such as Textures Music (USA), Future Thinkin (UK), Have A Break (Germany) and some forthcoming on Good Looking, SP Breakz, NexGen, Telluric ect and many more and been collaborating with producers from many countries. Tell us a little about your experience working with all these labels and people from all over the world …
Having releases on such a good labels is like a dream come true to me. Most of these labels have been among my favorites for many years which makes releasing my tracks a great pleasure and even bigger honor. My experience has been perfect so far and I have come to realize that most of the guys running these labels are equally professional as they are lovers of quality music. But what I like most is to collaborate with all these producers from all over the world. Such as Dynamic, Clart, soulTec, Static, Duo Science, Motta etc etc. I love to make music with producers that have different influences compared to myself. The different influences and angles by producers from different backgrounds clashing together in the production process is often difficult but also very magical when the track finally comes together.
What is the Drum and Bass Scene like in Greece?
I am quite sure that there were more fans back in 90s. That's why see more and more oldschool lovers on FB for example. The only chance to take place a serious gig would be in Athens or Thesaloniki. There are a couple of crews that organize gigs like Inneresense from Junior SP who have been doing there thing for over about 15 years now. In Greece we love "broken" beats so most clubs or bars playing styles like breaks, big beat and dnb. All these styles are kind of the "alternative" style to the Greeks ears.
Bad thing is that there are not too many dnb producers from Greece. There were some more in the past like Intersperse or Acropod but now they have chosen to make different styles of music.
Your tracks mostly seem to have an oldschoolish element to it, is that intentional or do you just make tracks so that they sound good? / Tell us something about your trademark sound and influences?
I have been into Drum and Bass since the early years. I was into all that hardcore revolution even if I wasn't living in the UK. My first contact was when I heard back in 1992, 2 cassettes from a pirate radio in London where I heard some epic tunes like Sub Dub, Terminator, Far Out ect. My influences before that period was acid house and all that underground movement like N-Joi, KLF ect. But when I heard that new sound from cassettes it did have a big impact on me. I started to buy hardcore music like a maniac. That's why my influences are very oldschool. TBH I am still back in there. I listen to many oldschool tunes every day. I love that sounds which was simple but so so revolutionary for that period.
What is the favourite Track you made?
I can't really decide which is my favorite, but I think from my un-released tunes I love a couple of " brass" style that are already signed to Good Looking Rec. But without doubt my fav released tune is "Good Times" with Motta and vocals by MC Fava.
Who would you like work with if you could pick any person dead or alive?
I like it a lot when I use samples from old jazz or soul tunes. So, it would be a dream to collaborate with any of these old musicians but I wouldn't mind to make an official remix of their tunes too. All are welcome !
Any statement on the state of Drum and Bass and Liquid/Soulful Drum and Bass in particular?
Drum and Bass is an alive organism that is in a unstoppable movement. With new sounds and capabilities of computers producers can create brand new dnb styles. That causes a "damage" to liquid and soulful DnB I think. These styles are not so "commercial" and most fans who are quite young seem to prefer these "new" styles like minimal and more hard-sound of dnb. But to me that is logical too, when you are young your blood boils.
What releases are about to drop that we should look out for?
My debut digital album was released last week by Textures Music Group (on Beatport exclusive for some days). Also i am very happy have a CD release + a 12″ scheduled for Have A Break Recording that will feature some collabs of mine with Motta, Clart, Scott Allen, Joseph Ablett and soulTec end of year. Finally, I have signed a couple of tunes on Good Looking Records, so I am looking forward to them too.
Anthing else?
Music is for everyone and you don't have to be a trained musician to make music. So I encourage everyone to involve with producing, anyone who loves music.
Tracklist:
01. soulTec – Guilty (dUb)
02. Flowhertz – Just Like (mSdoS Remix) (Phuzion)
03. mSdoS – Blue Sky High (Textures Music "Blue Sky High" Lp)
04. mSdoS – Deep Inside (Textures Music "Blue Sky High" Lp)
05. Scott Allen & MsDos – Havasu (Have-A-Break dUb "Cd Release")
06. mSdoS – Wisdom (Textures Music "Blue Sky High" Lp)
07. mSdoS – Reconstruction (Roy Green & Protone Remix) (Fokuz dUb)
08. mSdos & Physical Illusion – Back in the days (Sp Breaz dub)
09. Kyro & mSdoS – I always knew (Textures Music)
10. Motta & MsDos – Swing (Have-A-Break dUb "12" Release")
11. Motta – The Dance Is Over (dUb)
12. Loz Contreras – Rocking You (???)
13. Flowrian – Enter Nirvana (Beatalistics)
14. mSdoS – San Francisco Cable car (Textures Music "Blue Sky High" Lp)