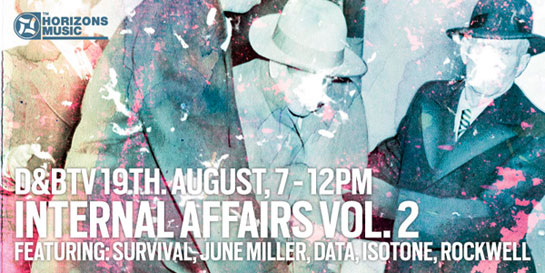 The Horizons Music camp are back in the studio, ahead of the September release of their new lp, Internal Affairs 2, which features tracks from Survival, Data, Saburuko and many more.
info: horizonsmusic.co.uk, live.breakbeat.co.uk
Last nights archive of Isotone, Rockwell, June Miller, Data & Survival representing the modern minimal, deep and sometimes glitchy borestep drum and bass. Thx to the lightning fast ppl over at dnbarena.ru for these recordings.

Tracklist Isotone:
01. Naibu :: Fireflies (Seba Remix) [HORIZONS]
02. Break :: Vanishing Point [EASTSIDES]
03. Proxima :: Layers [SGN:LTD]
04. Isotone :: Human Error [HORIZONS]
05. Phobia & Jubei :: Cooper's Dream [CODED MUSIC]
06. Doc Scott :: Drumz 95 (Nasty Habits Remix) [METALHEADZ]
07. Isotone & Loxy :: Burden [31R]
08. Amit :: Roots [COMMERCIAL SUICIDE]
09. Breakage :: Rebel Creations [CRITICAL]
10. Reactiv :: Watcher [TECH:NOIR]
11. Cern :: Past Tense [SYNDROME]
12. Data :: The Brink [INFLUENCE]
13. Illformants :: Pong [SUBTITLES]
14. Isotone :: If I Could [DUB]
15. Break :: Symmetrics [SYMMETRY]
16. Loxy & Isotone :: Shodan [CYLON]
17. Amit :: Immigrants [BINGO]
18. Cyantific :: Empty Streets [HOSPITAL]
19. D-Bridge :: Creatures Of Habit [EXIT]
20. Oak :: Mongoose [FREE]
21. Nebula :: Circular [SCIENTIFIC WAX]
Tracklist Rockwell:
01. Loxy – Gabriel Gray [CYLON]
02. ?
03. Breakage – Clarendon [DIGITAL SOUNDBOY]
04. Insight – Hold On [DIGITAL SOUNDBOY]
05. Raiden & Khanage- Amnesia Haze (31R)
06. Data – The Brink [INFLUENCE]
07. June Miller & Syntex – Sleep [N/A]
08. Ulteroir Motive – Yoghurt Brainwave [SUBTITLES]
09. SpectraSoul – Mimic [SUBTITLES]
10. Alix Perez Feat SpectraSoul & Peven Everett – Forsaken [SHOGUN AUDIO]
11. SpectraSoul – Buried [31R]
12. ASC – Starkwood [NON PLUS+]
13. Rockwell & Stapleton – ?
14. Rockwell – ?
15. Alix Perez – Self Control [SHOGUN AUDIO]
16. Instra:Mental – No Future [NON PLUS+]
17. Rockwell – Underpass [CRITICAL]
18. Rockwell – ?
19. Alix Perez – Myriads [SHOGUN AUDIO]
20. Icicle & Noisia – Driftwood [SHOGUN AUDIO]
21. Zero T – Harms Way [N/A]
22. Rockwell – Full Circle [N/A]
23. Rockwell – Snare Drum Awareness
24. Rockwell – Stowaway [DIGITAL SOUNDBOY]
25. SpectraSoul – Organiser Ramadanman Remix) [CRITICAL]
26. Rockwell – The Rain [N/A]
Tracklist June Miller:
01. ?
02. Triad – Last Gasp [DSM]
03. Ulterior Motive – Yoghurt Brainwave [SUBTITLES]
04. ?
05. Instra:Mental – No Future [NON PLUS+]
06. Dan Habarnam – Rendering The Garlic Boy [X-TINCTION AGENDA]
07. Rockwell – Tribes [CRITICAL]
08. DBR UK – 2019 [ETERNIA]
09. Mindmapper & Fre4knc – Fangtooth [N/A]
10. Data & K2 – Kyushojutsu [CYLON]
11. Raiden & Khanage – Amnesia Haze [31R]
12. Kryptic Minds – Hide The Tears (Loxy & Resound Remix) [METALHEADZ]
13. June Miller – ?
14. Triad – La Calma [CRITICAL]
15. ?
16. Anile – Lessons To Become [N/A]
17. June Miller – Neurosis [HORIZONS]
18. June Miller – Half Top Feelings [HORIZONS]
19. Stray – Talking About Nothing [N/A]
Tracklist Data:
01. Data – Tapeworm [N/A]
02. Spinline – Irreverse [SOUL:R]
03. System – El Sunrise [N/A]
04. Enei & Osh – Echo [31R]
05. HLZ – Lowalk [31R]
06. Native & Circa – Itaque [BROKEN AUDIO]
07. Flame & Kano – Raygun
08. Venetian Snares – Find Candace [N/A]
09. Digital – Dirty Money (Amit & Outrage Remix) [FUNCTION]
10. Data & K2 – Kyushojutsu [CYLON]
11. Digital & Outrage – Chromatic [N/A]
12. Sunchase – Varka [XTINCTION AGENDA]
13. ?
14. Pessimist – Whispers Of Scandal [N/A]
15. Data – ?
16. Stray – Timbre [N/A]
17. Data – Liberty City Blues [REVOLUTION]
Tracklist Survival:
01. Teknik – ? [???]
02. Spectrasoul – Mimic [Subtitles]
03. Instra:Mental & D-Bridge? – ? [???]
04. Specstrasoul – Buried [31]
05. NotioN – See the eyes – [Influenza LTD Dub]
06. Survival – ? [???]
07. NotioN & Hobzee – Hidden life – [Celsius Recordings]
08. SPY & Marky? – ? [???]
09. Survival – ? [???]
10. SPY & Marky? – ? [???]
11. Survival – ? [???]
.
.
last tune .. Survival – Field of Vision [Exit]