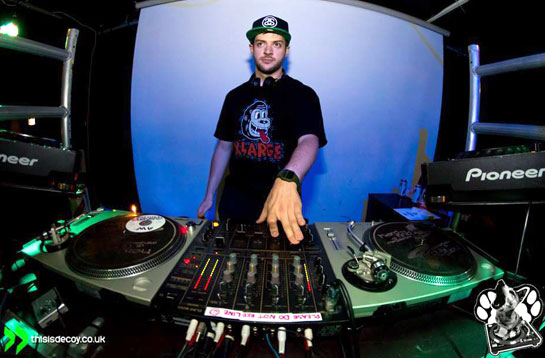 info: facebook.com/serumdnb, soundcloud.com/serum
A combination of hard graft and over 10 years of experience in DJing and production has seen Serum rise from relative obscurity into being one of the most prolific of the new breed of dnb producers. His mix of vintage jungle and futuristic modern jump up has shown widespread appeal, with tracks being picked up by many of the scene's biggest brands, such as Dread, Creative Source, Grid and Digital Soundboy and V as well as many of the scene's freshest up and coming labels.
Our favourite in regards to contemporary jump-up rolls out the tunes. Hat tip to Mr. Haste.

Tracklist:
Dee Bo General – The Specialist (Serum Remix)
Serum & Coda – Witchcraft
BTK – Try
Serum & Coda – Hindsight
Serum – Snapback
Roni Size – It's Jazzy (Bladerunner Remix)
Explicit – Black Dragon
Serum – Jaguar Technique 2013
Hazard – Digital Bumble Bees
Serum – Boulderdash
Serum – Energy
Level 2 – Bass Reverse
Serum & Bladerunner – Wu Tang 2013
Coda – Untitled
Bladerunner – Spartan Law VIP
Serum – Deep Inside
BTK – Bandits
Hazard – Air Guitar
Bad Company – Hornet
Dillinja – Leather
Dillinja – All Aboard
Frankee – Harlequin
Serum & Bladerunner – Heavy Duty
Serum, Bladerunner & Fats – Inner Soul
Hazard – Time Tripping
Zen – Space Cake
Loadstar – Be There
Bladerunner – Full Power
Dillinja – Gangsta (Serum Remix)
Explicit – Cringe
Dee Bo General – Too Much Violence (Bladerunner Remix)
Cool Hand Flex- Mercy Mercy (Serum Remix)