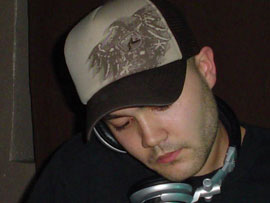 host: dnbshare.com, sweetsensi.com | info: myspace.com/krusadaproductions
This one mixes DnB to 140 bpm range stuff like dubstep/old techno/house/IDM/other and then back to DnB. Over 2 hours and over 50 tracks of music in the mix. Everything from seba to mala to aphex to jonny l to shackelton to matrix to kode9 to spank rock to oizo to joey beltram.
Krusada is back with a bit of a different approach that turned out to be another Badboy of a Mix!

Tracklist:
klute – i minder
chris inperspective – cloud city
klute – curley wurley
seba & manos – move on
matrix & danny j – vertigo
d-kay – serenade
saburuko – stellar
calibre – derranged
seba & krazy – nebula
fracture & neptune – sagrada familia
mistical – memory jog
breakage – love u so
saburuko – green horn
FSOL – papua new guinea (high contrast remix)
mala – bury the bwoy
designer music – good girl
shackleton – massacre
university of illinois – drumline cadence
krusada – nightfight
elemental – deep under
kode9 – kingstown
mala – blue notez
d1 – cocaine
kode9 – portal
spank rock – bump
*martyn – broken
digital mystikz – anti war dub
mala – left leg out
*joey beltram – loose kick
joey beltram – forklift
martyn – shadowcasting
aphex twin – polynomial c
shackleton – new dawn
dopplereffekt – speak & spell
pinch – qawwali
krusada – i feel so
fat freddy's drop – cay's Cray (digital mystikz version)
krusada – switch dub
breakage – strumpet
burial – forgive
mistical – 11th hour
lomax – artisan
matrix – six
icicle – so close
afrika bambaata and the soul sonic force – planet rock (stakka & skynet remix)
commix – electric
jonny l – the bells
break – ringing ears
jonny l – voices in my dreams
marcus intalex – wide eyes
oizo – halfanedit vs. spank rock – sweet talk (krusada sweet re-edit)