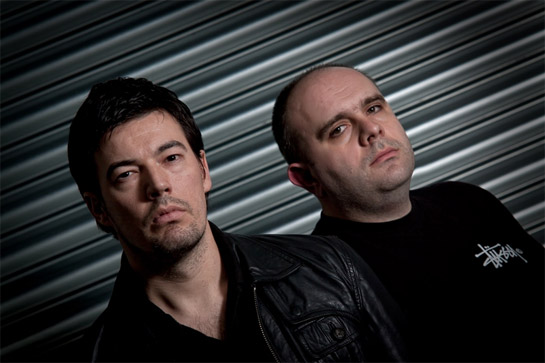 info: dogsonacid.com, soundcloud.com/dramatic-dbaudio
We are definitely doing what comes natural, doing what we enjoy and although we don't claim to be doing anything outrageously new we hope that people recognize our style and enjoy it. […] What you hear as the listener is us drawing on influences from those early tracks with breaks, warm subs, bad ass samples, harmonies and melodies.
A truckload of fresh beats by dRamatic & dbAudio. More prove that you dont have to jump on a techy/minimal train to make great timeless and vibing music. These guys are here to stay, rolling out quality tune after tune and getting airtime by Fabio & Groove, Bukem and many more. Peep the full Interview over at DOA and check out their guest mix for Atmosphere Radio posted on here before.

Tracklist:
01. dRamatic & dbAudio – Life Console – Ingredients
02. dRamatic & dbAudio – Rolling Times – Phuzion Records Dub
>>>>> Adam F – Circles – Section 5
03. dRamatic & dbAudio – Fragments of the Past – Dub
04. dRamatic & dbAudio feat GRiMM – Far Away – Mars Dub
05. dRamatic & dbAudio – Nation One – SOUNdTRAX Dub
06. dRamatic & dbAudio – So Strong – Mars Dub
07. dRamatic & dbAudio – Coast to Coast – Dub
08. dRamatic & dbAudio – Together Tonight – Fizzy Beats Dub
09. dRamatic & dbAudio – Tender Mood – Dub
10. dRamatic & dbAudio – Hidden Aspect – Ingredients Dub
11. dRamatic & dbAudio – Stowaway – Ingredients Dub
12. dRamatic & dbAudio feat GRiMM – Take my Hand – Mars Dub
13. dRamatic & dbAudio – Dreams of Life & Death – Ingredients Dub
14. dRamatic & dbAudio – Theme from Nuthall – Creative Source Dub
15. dRamatic & dbAudio – Soulwave – Telluric
16. dRamatic & dbAudio – The Green Box – Ingredients Dub
17. dRamatic & dbAudio – Subtle Shaking – Phuzion Dub
18. dRamatic & dbAudio – Strike me Down – Phuzion Dub
19. dRamatic & dbAudio – Flex Through the Solar System – Innerground Dub
20. dRamatic & dbAudio – 6 Degrees – Ingredients Dub
21. dRamatic & dbAudio – Break from the Vacuum – Ingredients