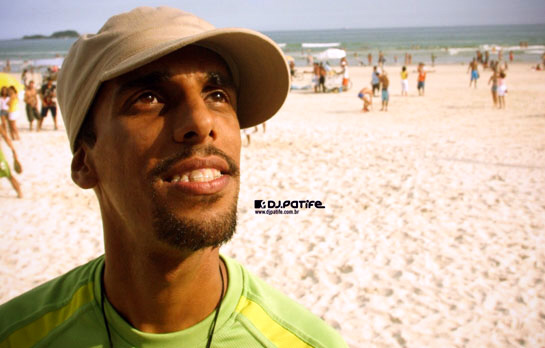 info: djpatife.com.br, dnbforum.nl
Patife is een van de mensen die Drum'n'Bass groot hebben gemaakt in Brazilië. Zijn tunes zijn zonovergoten, zijn mixes om bij weg te dromen. Speciaal voor DnBForum.nl heeft hij een 2 uur durende mix opgenomen. Geniet van de zomer!
DJ Patife from Brazil delivering the first of a three chapter podcast special. Watch the space over at DnBForum.nl for another two "summercast" mixes by brazilian djs coming up soon. Get ready for two hours worth of brazilian summervibes drum and bass with no mcs, ads whatsoever. What a treat!
Dank u wel, dnbforum.nl

Tracklist:
01. Tita Lima – A Conta Do Samba [Human Factor Remix] (Sunrize Records)
02. Fabio Kura & DJ Roots – Back Again (No Label)
03. Motta – Need Ur Luv (No Label)
04. DJ Roots & The Ego – Shining Down (No Label)
05. Gilberto Gil – Aquele Abraço [Mad Zoo's Remix] (No Label)
06. David WS – One More Time (No Label)
07. Dhemix – Never Had Love Like This (No Label)
08. Victor Mansur & Duda Bueno – Let Me Love [Human Factor & Weirdo Remix] (Sunrize Records)
09. Marvin Gaye – Sexual Healing [DNB Lovers Remix] (No Label)
10. Ritual – Gotta Keep On (No Label)
11. DJ Link – Dreams (No Label)
12. David WS – Prophecies (No Label)
13. Spikey Tee & Ritual – Whip Dem (No Label)
14. Fabio Kura & Motta – Zamba Bem (No Label)
15. Lemon D – Get On Down – (V Recordings)
16. White Label
17. Primary Motive – Who Has The Jazz (Creative Source)
18. Max De Castro – Carnaval "Pra Você Lembrar [DJ Patife Remix] (V Recordings)
19. Peshay – Road To San Marino (Photek Productions)
20. Erikah Badu – Bag Lady (Bootleg)
21. J Majik feat. Kathy Brown – Love Is Not A Game (Defected)