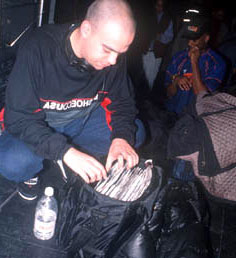 host: dj-2lip.com, dnbshare.com, megaupload.com | info: myspace.com/31docscott
From the birth of drum n bass to where it is today. From its transitions from rave to hardcore, jungle-techno to tech-step, UK based, to a global scene and industry. Doc scott has seen it all and been there for the entire journey.
Want to give Kudos? Go to Doc Scotts Myspace Blog for some deeper thaughts. Rehosts appreciated!

Tracklist:
1. Calibre – Why Time
2. Unknown – Unknown
3. Unknown – The Future VIP
4. Total Scienve – Soul Patrol
5. Goldie – Monkey
6. Furney – cali Cali
7. Vapor – Razor Blades
8. Martyn – Clowd Convention
9. Goldie – Special Request
10. Commix – Talk to Frank
11. Marcus Intalex – Bitter End 2
12. Calibre – Deranged
13. Friction – Lazy Days
14. Break – Authentic
15. MI:ST – Memory Jog
16. MI:ST – Untitled
17. Krust – Choose