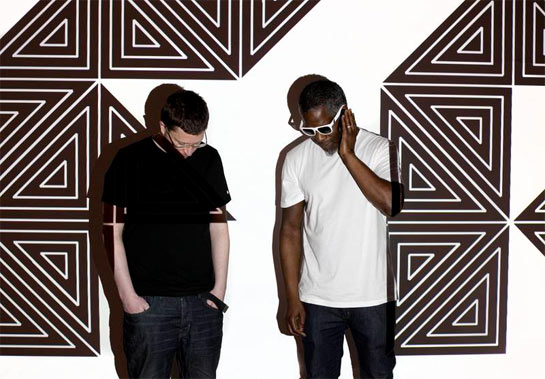 info: africahitech.com
Half a year old but easily the recording that got me the most exited and goosebumpified so far this year. Africa HiTech (Mark Pritchard and Steve Spacek) roll out an amazing selection of Music from Soul, Funk and HipHop to Juke, Steppers -Dub- step, Grime, Jungle / Drum and Bass – pretty much any subgenre of Bass Music i can think of. Their Debut Album "93 Million Miles" is out now but i dont think i like it as much as these 140 minutes of musical bliss, played live at Deviation, London.

Tracklist:
Kyenkyen Adi Mawa – Alhaji K Frimpong.
No Agreement – Fela kuti
Akula Owu Onyeara – The Funkees
NYA Asem Hwe – City boys Band
Lion – Harmonic 313
Bazooka Riddim – Harmonic 313
Cypress Phil – Hudson Mohawke
Scar – Harmonic 313/Wiley
Jellyfizzle – Danny Breaks
Dirtbox – Harmonic 313
Carry The Weight (Box Box remix) Machine drum
From The Drop – Wiley Mj Cole
Anaconda (Tribal Guarachero Mix) Dubbel Dutch
Subsonicfreedom Skyank Zed Bias
Blen Remix – Africa HiTech
Boingy – Africa HiTech
Caveman style – Africa HiTech
Treetrunk – Coki
Eyes Vip – Mala
80s Baby – Silkie
West Coast – Dok feat Terror Danjah
Readysetloop – SBTRKT
Shaka The Warrior – House Of Deb
Kunte Kinte – The Revolutionaries
6 Million Dub – Mad professor
Education – Mala
93 Million Miles – Africa Hitech
Out in the streets – Africa Hitech
One Blood – Dj Roc
Who's The Coldest – Dj Rashad
Lion Heart – Dillinja and Berti B
Babylon – Splash
Dark Soldier (Back in the day mix) – Raykeith
Super Sharp Shooter – Dj Zinc
True Stories – Dj Krust
Eve – Spacek – Dilla remix
This beat is mine – Vicky D
Distant planet – Fingers Inc
How does it make u feel – Africa hitech
Alone in the sun – Steve spacek
Dollar – Steve spacek
J dilla MJ Tribute.