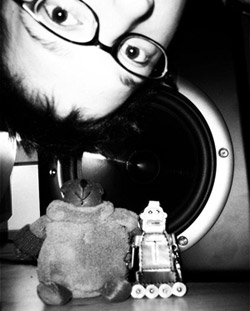 host: dj-2lip.com | info: kubatko.info, myspace.com/kubatko
Jakub Holovsky aka "Kubatko" is a 20 years old music composer an Dj from Czech Republic.
His first touch with making music is dated in 2000 and this year he has signed bunch of stuff on labels as Defunked (UK), Protogen Records (GER), Peer Pressure Recordings (USA), Vodkaredbull Records (CZ) and represent of Moodpack Recordings (GER). His tunes have got support so far by people as XRS, Lomax, Stunna, Kaleb, Contour, DJ Flight, Jay Rome, Marcas, Mike at Engine, Typecell, Devoe, The Ego, TC1 and others.
Here in the mix presenting his new signed and unsigned tunes. All tunes have been mixed in traktor dj studio, mix made for presenting artists stuff not his mixing skills. Rehost appreciated.
If labels intrested in any unsigned tune or people want to send some feedback, feel free to contact him at kubatkorebel at gmail.com

Tracklist:
1) Kubatko – Adelicious – Unsigned Dub
2) Kubatko – The Thing – Forthcoming Peer Pressure Recordings
3) Marcas – I Believe In Love (Kubatko remix) – Unsigned Dub
4) Kaleb, Jebar and Kubatko – Redirection – Forthcoming Defunked
5) Kubatko – Changing Moods – Forthcoming Vodkaredbull Records (beatport.com)
6) Kubatko and Marcas – Seaside 93 – Unsigned Dub
7) Kubatko – A Few Magic Words – Forthcoming Peer Pressure Recordings
8) Kubatko – Deep Desire – Unsigned Dub
9) Kubatko – Homesick VIP (feat. MC JyRO) – Unsigned Dub
10) Kubatko – Baddlab – Unsigned Dub
11) Kubatko – Fuckin' Trippin' – Forthcoming Vodkaredbull Records (beatport.com)
12) Kubatko and Smote – Instinct – Unsigned Dub
13) Reverb – Stereotape (Kubatko remix) – Forthcoming Protogen Records (beatport.com)